Return to all Bestselling Members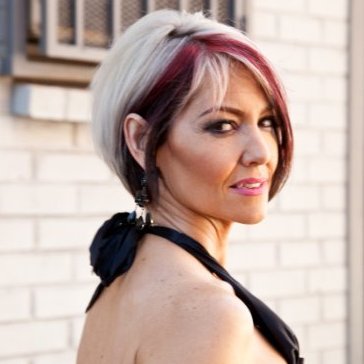 Penny L. Sampson
London, Ontario, Canada
Website:
www.pennylsampson.com
Bestseller Status: Confirmed
Penny L Sampson, F.I.E.R.C.E Leadership Life-Stylist, Unconventional Assertiveness & Leadership Trainer + Mentor, Motivational Speaker and Author is a behind the scene force of nature, who ardently supports Creative Introverts struggling with individuality, vulnerability, marketing, publicity and ownership of their leadership style. Teaching them how to Ignite their Inner Artist, get visible and vocal, live uncensored and fully expressed, Leading their Careers, Business and their Lives from Center Stage.
She knows first-hand what it takes to alchemize all your knowledge and quirks into your own powerful Leadership Style that creates impact and just how tricky it can be to Stand in the Face of Adversity, Raise the Volume on your Voice and be seen heard and valued as the Expert in Your Field. After 20 years of being intimately involved with the music and fashion industry – spotting talent, styling and preparing rising stars to take the lead in their careers, and delivering negotiation, leadership and assertiveness training in the corporate world, Penny was deemed successful by society's standards but was feeling more and more disconnected from her own Inner Artist and hadn't fully embraced her Power-House Leadership Style.
Her rebel side finally won and Penny chose to re-launch herself as an entrepreneur – one who fully embraced and expressed her individuality and signature voice to create a unique personal brand and Leadership Style that left nothing out. She calls it "divine liberation of the soul" and that's what she teaches to hundreds of women, men and teens around the world.
Penny is the creator of The F.I.E.R.C.E Formula™ a highly specialized Leadership Training System designed to tap into, amplify, and ignite individual Signature Leadership Styles transforming good leaders into Great Leaders fully prepared to spearhead the direction of their life and maximize results for their business or career.
In addition she is the founder and creator of "Indie Teen" an Assertiveness & Leadership training / mentoring program adapted from The F.I.E.R.C.E Formula ™ to expressly meet the unique requirements of today's youth and support them in tapping into their individual gifts, bolster confidence and prepare them to thrive as Dynamic Leaders of tomorrow.
Penny has been featured in Business Heroine Magazine, is a Words of Wisdom contributor for the Amazon Best Seller "Ready Aim Inspire", Co-Author of In Pursuit of the Divine, guest Speaker, been featured on Local Television and is currently writing her Life "to-date" Story.
Penny is a Certified Coach Practitioner, Certified Holistic Health Coach, Certified Transformational Coach, Assertiveness and Leadership Trainer, Personal Brand Stylist, has studied human behavior, the power of persuasion, negotiation and NLP like a women possessed, supporting her clients to set this world on fire by Unleashing Their Inner Rock star. She has two gifted, sassy daughters, 2 cats full of cat'titude and an insane love affair with all things eccentric and Avant-Garde.