Return to all Bestselling Members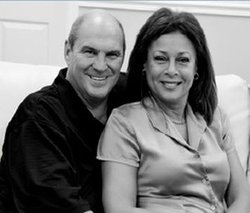 Nora and Jim Zarvos
Indianapolis, Indiana, USA

Website:
www.zarvoscoaching.com
Bestseller Status: Confirmed
Nora Zarvos, L.C.S.W., received her Bachelor's degree in Education and her Masters degree in Social Work. Nora has broad experience within the field of human services, education and transformational work. Nora's many accomplishments include founding a transformational coaching company in Spain, as well as Zarvos Leadership & Coaching in Indianapolis.
She is recognized as an expert international facilitator in many transformational communities, and stays busy fulfilling her most challenging and rewarding role—shaping the lives of her two sets of twins… Demi, Eleni, Nicholas and Liana and of her husband Jim.
Featured in the movie, "The Absolute Answer," Nora has developed and facilitates "The Magic of Intimacy," a workshop focused on the art of creating deep connections with others; "The Gathering," a workshop that empowers women to connect to themselves and other women; as well as "Leadership for Teens," a workshop for adolescents.
Her intention has always been to make a lasting difference in the world through raising people's consciousness. Nora spends her time coordinating and facilitating our leadership program as well as speaking and training internationally. Occasionally Nora slips away, and can be found taking pictures or gardening.
Jim Zarvos is the president and founder of Paradigm Consulting International, a consulting firm specializing in executive coaching and shaping high performance teams. He is also the co-founder of Zarvos Leadership & Coaching which offers a transformational coaching curriculum for anyone seeking new levels of personal fulfillment and success.
Jim has an extensive background in dramatically improving people's ability to lead effectively, communicate, coach, and produce unprecedented results.
His work has evoked personal and organizational breakthroughs with both established and emerging companies such as JP Morgan Chase & Co, Careerbuilder.com, American Express, Eli Lilly, and Southwest Airlines. Currently, he is involved in consulting and training projects in Spain, Asia and Russia.
Jim is featured in the movie "The Absolute Answer to Everything" and is working on a book "The Absolutes of Leadership" due to be published in 2014. When he is not writing or facilitating, Jim is doing what he loves most—hanging out with his four children, and his wife, Nora.