Return to all Bestselling Members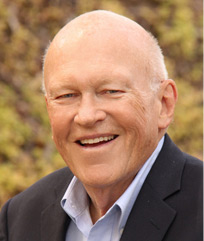 Dr. Ken Blanchard
San Diego, California, USA
Website:
www.kenblanchard.com
Bestseller Status: Confirmed
Dr. Ken Blanchard is the cofounder and Chief Spiritual Officer of Ken Blanchard Companies, an international management training and consulting firm that he and his wife, Margie, began in 1979 in San Diego, California. In addition to being a renowned speaker and outstanding consultant, Ken spends time as a visiting lecturer at his alma mater, Cornell University. He is also a trustee emeritus on their board.
Ken's phenomenal best-selling book, The One Minute Manager, which he coauthored with Spencer Johnson, has sold more than thirteen million copies and still remains a best seller. Since then, he's added many additional books to that list and all are receiving critical acclaim.
Ken has received numerous awards and honors for his outstanding contributions in the fields of management, leadership, and speaking. Ken has been inducted into Amazon's Hall of Fame as one of the top twenty-five best-selling authors of all time. The business school at Grand Canyon University bears his name, and Ken teaches students in the Masters of Science in Executive Leadership Program at the University of San Diego.