Return to all Bestselling Members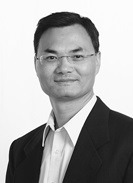 Jinwei Yan
Englewood, Colorado, USA
Email:
jinwei_Yan@yahoo.com

Bestseller Status: Confirmed
Jinwei Yan, currently a software engineer at Nelnet, came to America from China in 1995 as a graduate student. After graduation from Creighton University in Master of Business Administration in 1997, he worked as an information technology consultant specializing in Project Management at Dex Media (later QwestDex and now Amdocs).
Jinwei has been working as a software engineer since completion of his master's degree in computer science at the University of Nebraska at Omaha in 2000.
Before coming to the United States, Jinwei started as an accountant in 1985 after graduating from college in China. He became an international sales representative and manager after finishing his graduate education in Economics in 1988.
Jinwei strongly believes that life is multidimensional and success is measured by multiple criteria. He tries to set up incremental goals in life, seeking to maintain balance while re-prioritizing at each stage.