Return to all Bestselling Members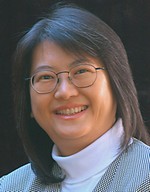 Dr. Huesan Tran
San Gabriel, California, USA
Website:
www.newfinancialparadise.com
Bestseller Status: Confirmed
Dr. Huesan Tran is an international author/speaker, spiritual teacher, and visionary leader incorporating energy healing philosophy into business, finance, and economics to transform the world from the old paradigm into a New Paradise. Her signature work in energy healing is the discovery and teaching of The Meridian of God™ that unites both spiritual and physical path as one to solve problems, overcome deadlocks, and transform to a new phase of human evolution.
Dr. Tran's vision and mission is the co-creation of a New Paradise on Earth. Her thought leadership on spirituality and wealth topics guides conscious leaders, business owners, executives, entrepreneurs, and professionals to find self-worth, clarity, and direction to thrive in the new economy and to create wealth with divine purpose and mission. She has created the New Wealth Model™ and the New Financial Paradigm™ platform to provide both conceptual understanding and practical solutions for healing, rebuilding, and creating a New Financial Paradise™.