Return to all Bestselling Members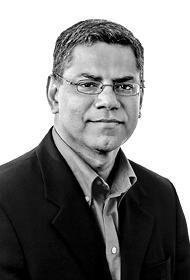 Gill Eapen
Groton, Connecticut, USA
Website:
www.scientificsense.com
Bestseller Status: Confirmed
Gill Eapen is the founder and chairman of Decision Options, LLC, a boutique firm providing software for real asset valuation and portfolio management. He is also Vice President at Charles River Associates, a boutique advisory services firm. Clients come from a variety of industries including technology, life sciences, energy and private equity.
Prior to establishing the firm, he was group director of finance at Pfizer, responsible for the financial analysis and planning of the R&D portfolio. Before that he was manager at Deloitte Consulting providing strategic and operational planning consulting to clients in technology, consumer goods and manufacturing sectors. Previous employers also include Hewlett-Packard and Asea Brown Boveri, where he was involved in power plant analysis, design and software development.
He holds graduate degrees from Northwestern University and the University of Chicago and an undergraduate degree from the Indian Institute of Technology. He is a CFA charterholder and a member of the Boston Security Analysts Society. He also maintains a blog entitled, "Ideas, Opinions & Speculation, in which he discusses market based policy options. He is the author of two business text-books - Decision Options & Flexibility.