Return to all Bestselling Members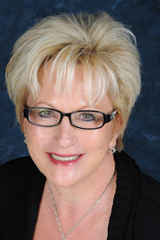 Carolyn Gross
Escondido, California, USA

Website:
www.creativelifesolutions.com
Bestseller Status: Confirmed
For over twenty years, Carolyn Gross has been helping people turn suffering into success. She is an Award Winning Speaker, Patient Advocate and Health and Wellness Expert as seen on NBC, ABC and Lifetime TV. You know when you need someone who is light hearted and yet seriously helpful, that's what she's good at!
She is the Author of several wellness books: Staying Calm in the Midst of Chaos; How to Keep Positive in an Unsettled World, Treatable and Beatable: Healing Cancer without Surgery and Breaking the Cancer Code. Her Certifications include: Day-Timer Trainer & People Skills expert Color Code trainer, as well as Past President of National Speakers Association, San Diego.
Carolyn introduces effective work/life balance programs that include: Self management, Health Management, and People Management strategies to audiences throughout the United States. She has worked with a wide range of professionals in healthcare, resort hotels, the spa industry, wellness events, real estate, military, government, insurance and financial companies.
Coupled with her knowledge of business and wellness, Carolyn dedicates herself to helping others by combining creative life solutions with wellness principles. Her multi-faceted approach to managing the sea of change we live in has helped people adjust to change, as they manage crisis and redefine their goals for ultimate meaning and success.
Whether she is delivering a presentation on "Managing Chaos with Confidence" or motivating leaders and health providers with her work/life balance retreats and executive team building programs, she offers important strategies for thriving in today's ever changing corporate and health climate. All programs are informative, interactive and energize audiences to action.She has been described by her audiences as a 'veritable energy transfusion'!